The News
Last Updated (Wednesday, 01 August 2012 08:30) Written by admin Tuesday, 31 July 2012 07:12
ISC is attempting to have a new Berm built to cover the 25 yard line all the way to the 7 yard shooting lines. We will also need to have some of the ricochet baffles removed and portions of the existing berm dismantled. We are actively soliciting requests for quote. Any contractor interested in constructing the berm is welcome to make a bid offer. The criteria we will use to select a winner will be as follows.
- your technical ability to move and place the concrete blocks, and move large quantities of earth and sand
- Your status as a member (With similar bids: Members are likely to get preferential treatment)
- Responsiveness to questions
- Price
The Construction of the Berm will need to take place on Mondays and Tuesdays. It will be critical that any partially completed work be left in a condition where a minimal number of shooting lanes will need to be closed. This will require that no concrete or hard surfaces are exposed and the bullet capture area is filled in. This work will likely be partially funded by a Washington State Grant and so clear concise Invoicing and paperwork must be be provided.

Any changes to the provided construction plan will need to be approved by the board of directors prior to any construction. If you have additional questions about the scope you can contact Pat Moore via email at This e-mail address is being protected from spambots. You need JavaScript enabled to view it
The below drawings will outline the planned construction. Click on the images to view full size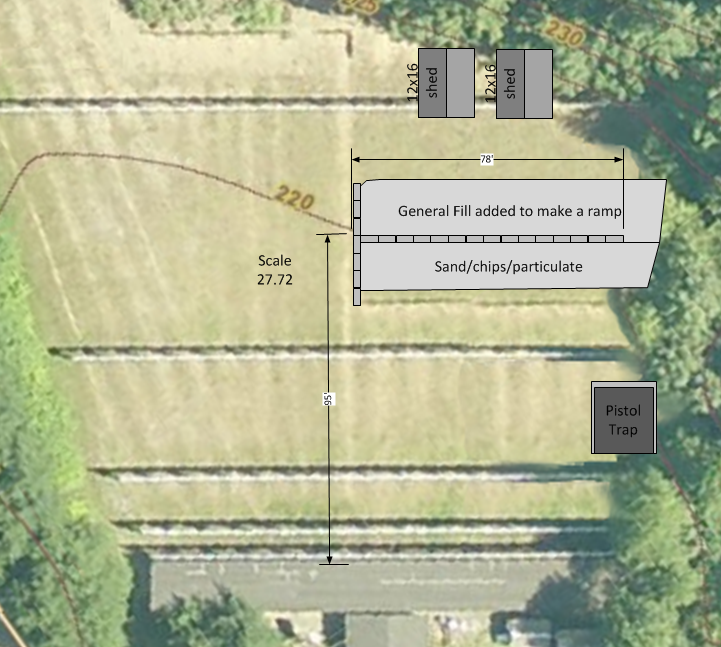 Web Site Menu Problem
Last Updated (Monday, 29 November 1999 16:00) Written by admin Tuesday, 15 May 2012 05:47
We are aware of the Menu problem on the website and are working to resolve it!
Upcoming Elections!
Last Updated (Thursday, 10 May 2012 10:38) Written by Administrator Tuesday, 27 March 2012 12:04
Upcoming Executive Committee Election:
An election of Board Members will be held at the next meeting on Monday June 4th.  Seven of the nine Executive Committee positions will be determined in the process (the current President and the Registered Agent are automatically made Board Members).  Ballots will be available to all attending members (you need your Club card to get a ballot) and the votes will be counted and winners announced at the meeting.
A list of candidates is posted at the Range.  These people have volunteered to run for these positions and are willing to invest their time to manage the range.  Please honor their commitment by coming to the meeting and voting. All Members are encouraged to participate in the election process either as a candidate or by voting.
Prospective candidates for office were identified in March and April  Members can hold only one position but may run for multiple positions. Candidates may also be nominated from the floor at the June meeting. The newly elected Members will take office in July
The Executive Committee positions are described in the Bylaws.
First Gals & Guns Day on November 19th, 2011!
Last Updated (Wednesday, 12 October 2011 08:50) Written by Administrator Wednesday, 12 October 2011 08:46
Members and guests of the Issaquah Sportsmen's Club,
the Issaquah Sportsmen's Club is hosting our first "Gals & Guns" day on Saturday, November 19th, 2011. All female shooters will be able to use the firing range free of charge! Hope to see you there!
Mosin Nagant Club Second Match is on October 15th, 2011.
Last Updated (Monday, 19 September 2011 08:30) Thursday, 15 September 2011 16:41
Ladies and Gentlemen and guests of the Issaquah Sportsmen's Club, please come and join us for our second rifle competition! Show time is 9:00AM. Firing will commence at 10:00AM. The last match was a lot of fun! Come join us for the fun if you own a Mosin Nagant and want to test your skill!
When: 9:00AM on Saturday, October 15th, 2011.
Where: Issaquah Sportsmen's Club Firing Range.
$3.00 Entry Fee on top of the normal non-member shooter fee of $12.00. Members only pay the $3.00 fee.
Feel free to bring your Mosin Nagants and join the volley fire and competition!
Rules and Regulations will be explained prior to the event starting.
Please bring at least 40 rounds of ammunition!
Hope to see you there!
 -The RSOs.
 (The competition will take up six to eight benches.)
More Articles...
Page 1 of 2