Issaquah Sportsmens
NEW!!!
We now offer attractive Gift Certificates for Firearms Classes taught here at the club!

To purchase one or get more information, ask the front window at the range or call (425)999-9472 to talk to the instructor. Please DO NOT call this number for general range questions!
Range Hours \ Business Hours
Winter closing time is sunset.


Always CLOSED Monday & Tuesday!
Summer Hours:
Wed-Fri & Sun:

12-6:00pm
Saturday:

10am-6:00pm
Mon-Tues:

CLOSED
WE ARE CLOSED ON ALL MAJOR HOLIDAYS THESE INCLUDE EASTER SUNDAY, JULY 4th, THANKSGIVING, CHRISTMAS, NEW YEARS!!!
Welcome, Every third Sunday the Cascade Mountain men have a shoot on our range. Most of the 50 yard benches are used by CMM and all of the 100yard benches. Do not come to the range on that Sunday and expect to get a 100 yard bench until after 3:00pm. We have a long and prosperous relationship with CMM and we will continue to support their efforts. Thanks for your support and understanding!
Last Updated (Sunday, 02 March 2014 14:42) Written by Michelle Gipson Tuesday, 11 February 2014 00:00
Announcing our Annual Banquet...
March 15th, 2014
Range Closes @ 3:30 this day!!
This years banquet will once again be held at:
Issaquah Elks Club
765 Rainier Blvd. Issaquah WA 98027
Cocktails (No-host bar) starts at 5:00pm, Dinner at 6:00pm
Awards will be given out followed by our guest speaker.
This year's guest speaker: Ron Loos, Ready Systems.
Ron will be speaking on emergency preparedness, identifying, preparing for and recovering from hazards and disasters.
Each Plate will be $20/Adults, $14/Youth (14 and under)
You have your choice of Steak, Salmon or Vegetarian.
Questions can be directed to: This e-mail address is being protected from spambots. You need JavaScript enabled to view it
Please sign up by by March 7th.
If you want to be involved in the drawing, bring a white elephant gift. White elephant gifts should be something that you would want to receive as a gift.
To pay at the range make checks payable to Issaquah Sportsmen's Club. Choose your entrée at this time.

To sign up online, choose an entrée for each person you want to attend.  You can pay with PayPal or a credit card.
Thanks! We hope to see you there!

Welcome, thanks for stopping by!
Last Updated (Monday, 16 July 2012 14:21) Written by Administrator Monday, 09 August 2004 22:30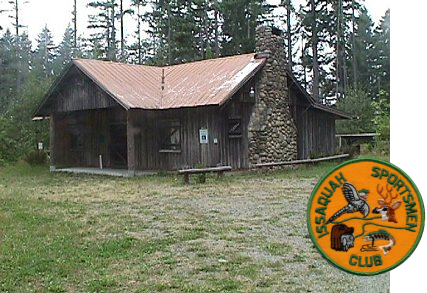 Welcome to the Issaquah Sportsmen's club.
The club is proud to be a member of the Issaquah community, serving sportsmen from this location since 1920. Our facilities are utilized by many local and state organizations. Some of these organizations include: Scouts, 4h Shooting Sports, Hunter Education, Bowhunter Education, and many others. If you're organization is interested in utilizing our facility give us a shout we'll do what we can to help you out. From the beginning, our firing range has provided a safe place for both the public and members to shoot. Our range is a place where sports enthusiasts can hone their skills while observing safe firearms handling and shooting. We now have an archery range available only for members and their guests. We hope you'll enjoy the facilities and camaraderie, come on out sign up and enjoy.
Since it's inception, the Issaquah Sportsmen's Club has bee active in supporting wildlife conservation. The Club has participated in re-stocking Lake Sammamish. We helped establish the salmon hatchery in Issaquah and have been involved in many other initiatives related to the conservation of wildlife throughout the area and the state.
Please enjoy your visit on our website and come back often. We do our best to provide as much information as possible about our club and it's facilities however if you have any additional questions please do not hesitate to contact us.