Issaquah Sportsmens
Tracking and More
Last Updated (Monday, 13 April 2015 09:12) Written by Michelle Thursday, 02 April 2015 00:00
Evergreen Survival Classes
Primitive Fire Making:
Tuesday 21 APR (5:00pm – 8:30pm)
Could you make a fire to survive in the wilderness? What if you had no tools and no matches?
Course Fee: $25 per class
---
Counter Tracking & Evasion:
Sunday 26 APR (10:00am – 5:00pm)
This one day class will teach the fundamental skills needed to evade pursuit in the wilderness, including:
emergency counter-tracking techniques, camouflage & evasion movement, how to create a tactical hide site, counter-dog tactics, and more!
Class will initially meet at the clubhouse, then transition to Taylor Mountain Forest.
Course Fee: $35 per class
---
Flint Knapping:
Thursday 30 APR (5:00pm – 8:30pm)
Join us as we explore our primitive ancestral roots while chipping your own arrowhead! This hands-on class will be the most fun you've ever had learning about geology and history!
Cost of class covers your own deluxe flint-knapping kit (including stones, leather knee pad, copper striking tools and more)
Course Fee: $70 per class
All Classes will be held at the Issaquah Sportsmen's Club Clubhouse
23600 SE Evans St
Issaquah, WA 98027
FOR DETAILS & INFORMATION:
Register Online at: www.evergreensurvival.com
Email: This e-mail address is being protected from spambots. You need JavaScript enabled to view it
Call: (609) 464-1475
Pilot Meal Planning Seminar
Last Updated (Tuesday, 14 April 2015 12:38) Written by Michelle Saturday, 11 April 2015 17:09
Pilot Meal Planning and Weight Management Seminar
Presented by Body by Zoe LLC
Coming in June DTBA
Time 10:00AM-12:00PM
Issaquah Sportsmen's Clubhouse
23600 SE Evans St ~ Issaquah, WA 98027
· Meal plans
· Grocery lists
· Tricks of the trade,
· and food prep for those wanting to eat clean to get lean.
· Class includes a seminar on weight management as well as time to meal prep together for the week with plenty of hand outs and recipes to take home!
· We will conclude the seminar with a fun 30 minute Boot Camp work-out.
Founder and Owner, Zoe Feuerstein is a national fitness competitor, champion and model of Body by Zoe LLC. Cost: $50 + supplies.
Email Zoe to reserve your place and for a list of supplies @ This e-mail address is being protected from spambots. You need JavaScript enabled to view it
Note: *Bring your own Tupperware, cutting board, small knife, and groceries to meal prep your weeks' meals."
Club Nominations 2015
Last Updated (Monday, 13 April 2015 09:10) Written by Michelle Thursday, 19 March 2015 10:12
ISC BOARD ELECTION 2015
If you ever had ideas to improve your club, now is the time to get involved.
All ACTIVE members are encouraged to run for the Board of Directors or Officers.
It is the desire that members be involved in the organization and operation of ISC.
There are a total of 9 seats. Seven are up for election.
4 Officers
President, Vice President, Secretary, Treasurer
3 Directors up for nomination
Nominations are accepted March through June.
Election is held in June.
Service starts at the July meeting.
FINAL day to get your nomination in is June 1st 2015
at the monthly member's meeting, 7:00p.m. at the clubhouse.
If you are happy with the current Board, you may re-nominate them.
If you have someone else in mind or would like to run yourself, get your nomination in.
For detail information regarding our annual election, please go to
our main menu, look under the SOP and Bylaws on the left.
Scroll down to Article VII – Board of Directors, Section 2 – Election and Tenure
Range Hours \ Business Hours
Winter closing time is now till 6:00PM


Always CLOSED Monday & Tuesday!
Summer Hours:
Wed-Fri & Sun:

12-6:00pm
Saturday:

10am-6:00pm
Mon-Tues:

CLOSED
WE ARE CLOSED ON ALL MAJOR HOLIDAYS THESE INCLUDE EASTER SUNDAY, JULY 4th, THANKSGIVING, CHRISTMAS, NEW YEARS!!!
Welcome, Every third Sunday the Cascade Mountain men have a shoot on our range. Most of the 50 yard benches are used by CMM and all of the 100yard benches. Do not come to the range on that Sunday and expect to get a 100 yard bench until after 3:00pm. We have a long and prosperous relationship with CMM and we will continue to support their efforts. Thanks for your support and understanding!
Welcome, thanks for stopping by!
Last Updated (Monday, 30 June 2014 09:27) Written by Administrator Monday, 09 August 2004 22:30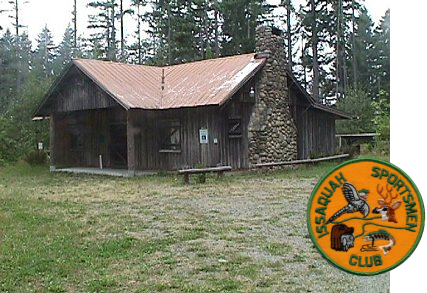 Welcome to the Issaquah Sportsmen's club.
The club is proud to be a member of the Issaquah community, serving sportsmen from this location since 1920. Our facilities are utilized by many local and state organizations. Some of these organizations include: Scouts, 4H Shooting Sports, Hunter Education, Bowhunter Education, and many others. If you're organization is interested in utilizing our facility give us a shout we'll do what we can to help you out. From the beginning, our firing range has provided a safe place for both the public and members to shoot. Our range is a place where sports enthusiasts can hone in on their skills while observing safe firearms handling and shooting. We now have an archery range available for members only and their guests. We hope you'll enjoy the facilities and camaraderie, come out and enjoy.
Since it's inception, the Issaquah Sportsmen's Club has bee active in supporting wildlife conservation. The Club has participated in re-stocking Lake Sammamish. We helped establish the salmon hatchery in Issaquah and have been involved in many other initiatives related to the conservation of wildlife throughout the area and the state.
Please enjoy your visit on our website and come back often. We do our best to provide as much information as possible about our club and it's facilities however if you have any additional questions please do not hesitate to contact us.