Welcome to The Issaquah Sportsmen's Club
Last Updated (Thursday, 19 February 2015 14:24) Written by Michelle Gipson
Announcing our Annual Banquet...
March 14th, 2015
Range Closes @ 3:30 this day!!
This years banquet will be held at:
Pogacha of Issaquah
120 NW Gilman Blvd. Issaquah WA 98027
Cocktails (No-host bar) starts at 5:00pm, Dinner at 6:00pm
Cost is $25/person
Buffet style dinner in the Issaquah Dinning room inside Pogacha's
This year's entertainment: Brady Ramsey of Over The Top Magic.
Awards will be made for the largest deer, elk, salmon or steehead caught, shot or corralled in Washington State during 2014.
Contact Tom Mechler @ 425-255-0922 or email @ This e-mail address is being protected from spambots. You need JavaScript enabled to view it if you think you have a winner before February 27, 2015.
Questions can be directed to: This e-mail address is being protected from spambots. You need JavaScript enabled to view it
Please sign up by by March 9th.
If you want to be involved in the drawing, bring a white elephant gift. White elephant gifts should be something that you would want to receive as a gift.
To pay at the range make checks payable to Issaquah Sportsmen's Club
We hope to see you there!

Last Updated (Wednesday, 11 February 2015 14:30) Written by Michelle
BASIC WILDERNESS FIRST AID:
$53 (without manual) / $70 (with manual)
Saturday February 28th
9:00AM - 4:00PM

This action packed one day class will cover the basics on how to save someone's life in the backcountry!  Topics will include treatment of injuries an outdoor sportsman is most likely to encounter, with specific focus on gunshot wounds, arrow impalement, and bone fractures, and participants will receive a 3 year Wilderness First Aid Certification from the American Safety and Health Association (ASHI).
Register online (link below). Space is limited and these seats go fast:
Range Hours \ Business Hours
Winter closing time is now till 6:00PM


Always CLOSED Monday & Tuesday!
Summer Hours:
Wed-Fri & Sun:

12-6:00pm
Saturday:

10am-6:00pm
Mon-Tues:

CLOSED
WE ARE CLOSED ON ALL MAJOR HOLIDAYS THESE INCLUDE EASTER SUNDAY, JULY 4th, THANKSGIVING, CHRISTMAS, NEW YEARS!!!
Welcome, Every third Sunday the Cascade Mountain men have a shoot on our range. Most of the 50 yard benches are used by CMM and all of the 100yard benches. Do not come to the range on that Sunday and expect to get a 100 yard bench until after 3:00pm. We have a long and prosperous relationship with CMM and we will continue to support their efforts. Thanks for your support and understanding!
Last Updated (Monday, 30 June 2014 09:27) Written by Administrator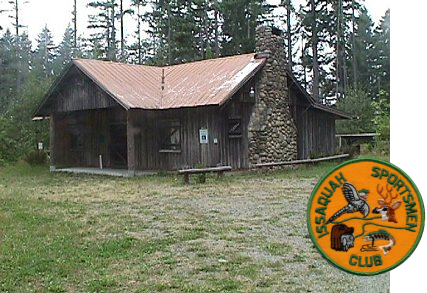 Welcome to the Issaquah Sportsmen's club.
The club is proud to be a member of the Issaquah community, serving sportsmen from this location since 1920. Our facilities are utilized by many local and state organizations. Some of these organizations include: Scouts, 4H Shooting Sports, Hunter Education, Bowhunter Education, and many others. If you're organization is interested in utilizing our facility give us a shout we'll do what we can to help you out. From the beginning, our firing range has provided a safe place for both the public and members to shoot. Our range is a place where sports enthusiasts can hone in on their skills while observing safe firearms handling and shooting. We now have an archery range available for members only and their guests. We hope you'll enjoy the facilities and camaraderie, come out and enjoy.
Since it's inception, the Issaquah Sportsmen's Club has bee active in supporting wildlife conservation. The Club has participated in re-stocking Lake Sammamish. We helped establish the salmon hatchery in Issaquah and have been involved in many other initiatives related to the conservation of wildlife throughout the area and the state.
Please enjoy your visit on our website and come back often. We do our best to provide as much information as possible about our club and it's facilities however if you have any additional questions please do not hesitate to contact us.